[here is how to pronounce my first name]
I'm a professor at the University of Lausanne and leading the OROG3NY group.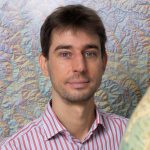 Research interests
I am interested in the continental lithosphere: its structure, its deformation and the associated physical processes. My principal tools of investigation are geophysical imaging (seismology, gravimetry, drilling) and numerical modelling (themo-mechanical, petrological), including fieldwork.
OROG3NY was a multi-year SNSF project, which then continued over several current research topics:
Ivrea geophysical body (Ph. D. Matteo Scarponi)
Seismo-at-school in Nepal (Ph. D. Shiba Subedi)
3D structural mapping with converted waves
My past work focused mainly on orogeny, deformation and phase changes (see Publications for details):
the Himalaya-Tibet region (crustal and lithospheric structures [projects Hi-CLIMB in Nepal and Tibet, GANSSER in Bhutan], deep lithospheric seismicity, rheology of the India plate, eclogitization of the lower crust);
the Alpine-Carpathian-Pannonian region (broadband-seismology-array and geodynamics [projects CBP, EASI, AlpArray, PACASE]);
a numerical approach that does conserve mass during metamorphic phase changes in thermo-mechanical models;
columnar jointing in igneous rocks (size, composition).
Publications
Follow this link.
Abstracts, other papers and reports
Follow this link.

Managed seismic networks
Ph.D. thesis
Evolution of deformation of the Himalayan prism: from imaging to modelling.
École Normale Supérieure – Université Paris-Sud XI, 400 pp., 2007.
Abstract [en/fr/hu]; download from here.
Awards:
Prize of the Chancellery of Paris Universities 2008 (Aguirre-Basualdo Prize)
Award of the William B. & Elizabeth Behr Agocs Geophysical Research Fund 2008