River damming by rockfall  in Wohlusen (LU), Switzerland, on 11 January 2016.
At 3 AM on 11 January 2016, a 5'000 cubic meters rockfall fell from a 50 m height cliff in the village of Wolhusen in the Canton of Luzern, Switzerland. The rockfall fell into the Kleine Emme river, built a dam deflecting the river path. The cliff was described as highly hazardous in the hazard map. The neighborhood composed of residential and industrial buildings was flooded (with diesel pollution) and boulders were projected over a travel distance of 200-300 m causing damages to buildings. 20 people have to be evacuated, a main road as well as a train track had to be closed and 3 power supply installations were affected generating power failures. Nobody were injured by the event. Damage are estimated to over 1 million Swiss francs.
After the event, the cliff has been cleaned and secured. On the ground, 12'000 cubic meter of deposit material have been evacuated. Repair work including flood protection wall restoration last until early summer 2016.
Further similar rockfalls in the same site are expected and therefore the Canton of Luzern has started a global risk reduction project in this area for rockfall hazard and floods.
UAV video here (ZSO Emme).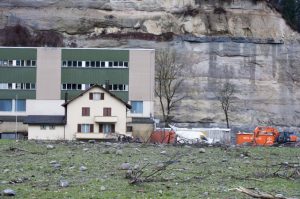 Sources: Neue Luzerner Zeitung (1), (2), (3) and (4); Neue Zürcher Zeitung (1), (2), (3) and (4).
Images from October 2016: