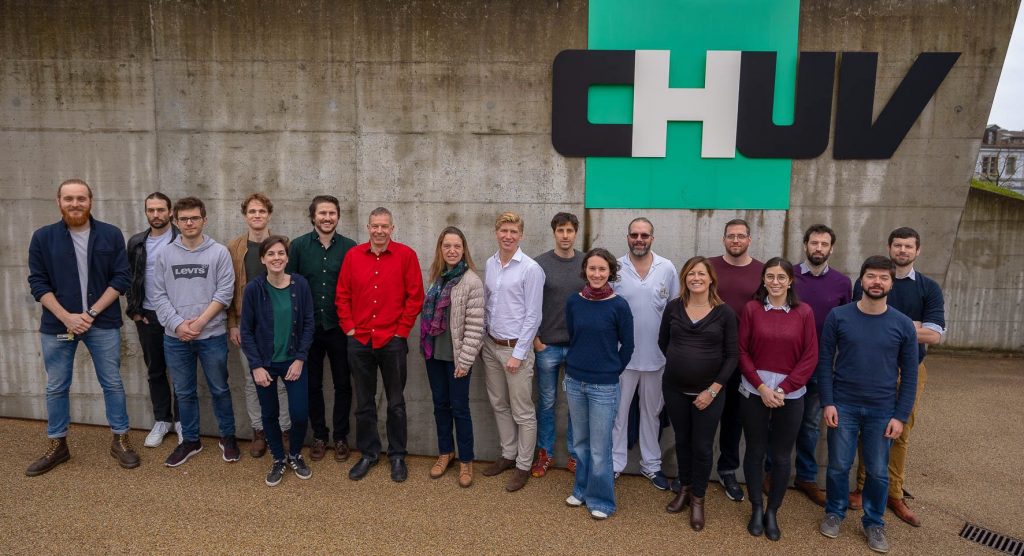 The Translational Magnetic Resonance Research Center group. From left to right: Lorenzo Di Sopra, Bastien Milani, Simone Rumac, Lionel Arn, Giulia Rossi, Christopher Roy, Matthias Stuber, Eleonora Fornari, John Heerfordt, Jérôme Yerly, Emeline Darçot, Boris Mrdovic, Jessica Bastiaansen, Mario Bacher, Mariana Falcão, Davide Piccini, Nemanja Masala and Ruud van Heeswijk.
Current Group Members
Click on one of the portraits of the current group members below for a small biography and contact information.

Matthias Stuber
Full professor
Head of group

Ruud van Heeswijk
Senior lecturer
Principal Investigator

Christopher Roy
Lecturer
Principal investigator

Eleonora Fornari
Senior scientist
Project leader

Jérôme Yerly
Senior scientist
Project leader

Aurélien Bustin
Principal Investigator

Augustin Ogier
Postdoctoral fellow

Cyril Tous
Postdoctoral fellow

Mario Bacher
PhD student
Industrial partner

Adèle Mackowiak
PhD student


Ludovica Romanin
PhD student
Industrial partner


Xavier Sieber
PhD student


Pauline Calarnou
PhD student


Robin Ferincz
PhD student


Pauline Gut
PhD student



Isabel Montón Quesada
PhD student

Jana Zhang
PhD student


Efena Akporeha
PhD student


Martin Nicoletti
PhD student


Affiliated Group Members
Scientists who are associated with a PI outside our group, but are nevertheless well-integrated in the group.
Chantal Rohner – head MR technician
Jean-Baptiste Ledoux – head technician for MR research
Benedetta Franceschiello – Research scientist on dynamic MR of the eye (with Micah Murray, CHUV)
Hélène Lajous – Postdoc on fetal parametric mapping (with Meritxell Bach-Cuadra, CIBM)
Alumni
Solange Denervaud – Postdoctoral fellow 2021-2023
Bastien Milani – Postdoctoral fellow 2018 -2023
Davide Piccini – Industrial partner & project leader 2011-2023
Giulia Rossi – PhD student 2019-2023
Mariana Falcão – PhD student 2019-2023
Simone Rumac – PhD student 2019-2022
Jessica Bastiaansen – Postdoctoral fellow & lecturer 2014-2021
Nemanja Masala – PhD student 2017-2021
John Heerfordt – PhD student 2017-2021
Lorenzo Di Sopra – PhD student 2016-2020
Emeline Darçot – PhD student 2014-2019, now: CHUV
Veronica Bianchi – PhD student 2017-2018, now: R4P
Roberto Colotti – PhD student 2014-2018, now: UNIL
Jean Delacoste – PhD student 2012-2017, now: OFSP/BAG
Andrew Coristine – PhD student & postdoc 2011-2017, now: GE Healthcare
Marijana Mionic – Postdoctoral fellow 2013-2017, now: Oerlikon Balzers
Jérôme Chaptinel – PhD student 2011-2016, now: CHUV
Hélène Feliciano – PhD student 2011-2016, now: Keranova
Giulia Ginami – PhD student 2013-2016, now: Siemens Healthineers
Gabriele Bonanno – PhD student 2010-2015, now: Siemens Healthcare
Simone Coppo – PhD student 2010-2015, now: Itecor