The field trip on gravitational slope movements for master students took place for the fifth year at Barcelonnette (French Southern Alps) at the beginning of June. During two weeks, the students had the opportunity to study the landslide of Lavalette, rockfalls around Meolans and debris flows in the Riou Bourdoux catchment. The quite intensive program was composed of mapping and terrestrial LiDAR in the field during day times, data analysis and numerical modelling the evening.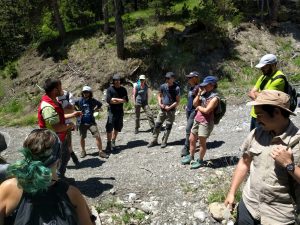 Hugo Collomb from RTM giving explanations on the debris flows mitigation measures in the Riou Bourdoux catchment
Once again we benefited from all the facilities provided by the Seolane center (center dedicated to host scientific stays at Barcelonnette), and we had the opportunity of a visit guided by Hugo Collomb of the French Office of Forest (ONF-RTM).