The 3rd Virtual Geosciences Conference took place in Kingston (Ontario) on 22-24 August 2018. This conference is at the intersection of geomatics, visualization, computer vision, graphics and gaming, as well as virtual and augmented reality with applications to a range of geoscience subfields, such as geological mapping, geomorphology, geohazards, glaciology, volcanology, tunnelling, and mining. It was organized at Queen's University, by Ryan Kromer, a former PhD student of Lausanne and Queen's universities.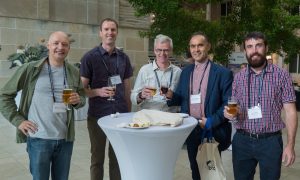 MH Derron, S. Buckley, J. Chandler, M. Jaboyedoff and R. Kromer (Chairman of the 3rd VGC)
The first VGC conference was in Lausanne in 2014 and then in Bergen in 2016. These events are fantastic opportunities to learn how new technologies can be used in geosciences, gathering together people from different horizons.
http://virtualoutcrop.com/vgc2018
Optimizing the use of 3D point clouds data for a better analysis and communication of 3D results. François Noël, Marc-Henri Derron, Michel Jaboyedoff, Catherine Cloutier Jacques Locat
Infrared Thermal Imaging for Rock Slope Investigation – Potential and Issues. Marc-Henri Derron, Antoine Guérin, Michel Jaboyedoff