Dear eager readers,
Gather round, gather round, for [insert dramatic drum roll] the spring 2020 edition of MUSE is out! And boy oh boy, have we got treats in store for you all.
These monotonous times have not dampened the creative minds of our adored English Department's students, and we can once again proudly present their latest poems and prose pieces. Moving from medieval castles to creepy streets and a new take on mankind's creation, you are in for a fun ride! And, as a rare delight, we are also publishing an exclusive translation of one of Seamus Heaney's poems, which ties in very nicely with this issue's interview. Rachel Falconer has kindly sat down (well, zoomed) with one of our editors, taking us on a journey from the British Isles to Canada, the Czech Republic, the Galapagos Islands and Narnia, without forgetting a short (non-scary) trip to the Underworld. Confined, you say? Not quite! You can read all about it here:
It has once more been a pleasure for us all on the magazine's editorial committee to put this edition together, and we thank all our contributors for their wonderful submissions! Although this issue could not come out in print, we have decided to carry on with our tradition of ending the magazine with a quote taken from a spring-related poem. This time around we have chosen the closing stanza of Carol Ann Duffy's 'Virgil's Bees', which hopefully echoes the moments we have taken lately to stand still and listen to what surrounds us.
Much love, and happy reading!
The MUSE team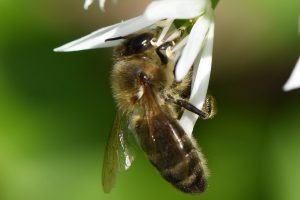 Image 'Bee's'©  pete.coutts. Source: CC License
'let gardens grow, where beelines end,
sighing in roses, saffron blooms, buddleia;
where bees pray on their knees, sing, praise
in pear trees, plum trees; bees
are the batteries of orchards, gardens, guard them.'