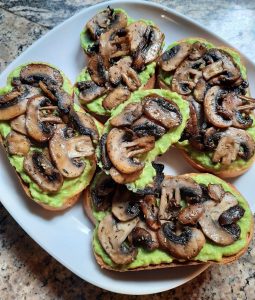 Author: Leah Didisheim
Ingredients (for 1 person):
1 avocado
½ lemon (more or less)
150g of button mushrooms (champignons de Paris)
Your favourite bread (about 4 slices)
Olive oil to cook
Spices:
Cayenne pepper
Salt
Pepper
Provence herbs mix
Garlic powder
Recipe:
Heat up your oven on 50/70°C and put your bread in it (you don't have to wait for the oven to be hot). (You could also toast your bread or just keep it the way it is if you prefer.)
Wash your mushrooms, cut off the bottom of the tails and slice them. When that's done, heat up a pan to maximum heat with olive oil in it. When hot, put the mushrooms slices in and turn down your heat a bit. Wait for the mushrooms to soak up in oil – add some if needed (which I always do); a disturbing amount is needed. When the slices begin to shrink and all have oil on them, add all of the spices according to your liking (you can use other spices if you prefer, these are just the ones I always use). Stir the mushrooms from time to time (reduce the heat if needed) and take them off the heat when cooked (I personally like them a tad crispy) and set them aside.
Then (or while your mushrooms are cooking), take your avocado and cut it in half. With a spoon, take the avocado flesh, cut it in small pieces and put the pieces in a bowl. Take a fork and mash it all up. When there are no more chunks of avocado, press half a lemon and add it to the mixture. Before mixing it all up, also add some cayenne pepper and mix the spices and the lemon juice a bit. When that's done, mix it all together.
Take your bread out of the oven (or before if it was already crusty, which is what we're aiming for – check it a few times while preparing your other ingredients) and cut it in slices.
Put the slices on a plate and spread the avocado mixture on top of each slice. On top of that add some of the mushroom slices and you're good to go!
You can add more or less of all the ingredients depending on how much you eat and the taste you like best; these are only suggestions.
Bon appétit!