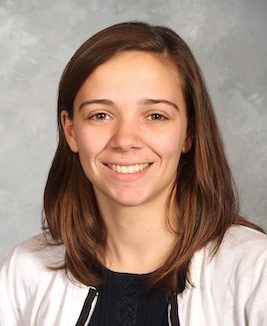 PhD student
University of Lausanne (UNIL)
Affiliations
University of Lausanne, Center for Biomedical Imaging (CIBM)
Lausanne University Hospital, Radiology Department (CHUV)
Contact
Email: priscille (dot) guerrierdedumast (at) unil (dot) ch
Postal address: Centre de Recherche en Radiologie (RC7), Rue du Bugnon 46, CH-1011 Lausanne
Office: Rue Centrale 7, 4th floor, CH-1003 Lausanne
Research Interests
Short Bio
Priscille studied digital sciences at Lyon School of Chemistry, Physics and Electronics (CPE Lyon) where she received her Bachelor's degree in 2015. Specializing in image analysis and image processing, she worked as a research assistant in the Dental and Craniofacial Bionetwork for Image Analysis (DCBIA) at the University of Michigan, MI USA, before completing her Engineering degree in 2018 at CPE Lyon.
Her interest in medical imaging confirmed during her Master project in the Advanced Clinical Imaging Technology (ACIT) group at Siemens Healthineers, working on the development of a novel tool for the assessment and follow-up of neurodegenerative diseases.
Since April 2019, Priscille is pursuing her PhD thesis focusing on the development of an integrated reconstruction-segmentation framework for T2w fetal brain imaging, along with the exploration of novel segmentation method to allow quantitative analysis of high-resolution 3D images. The thesis is under supervision of Dr. Meritxell Bach Cuadra with the support of Swiss National Science Foundation (SNSF-205321_182602).