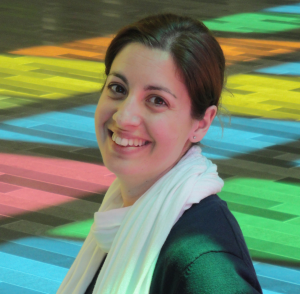 Senior Lecturer (Maître d'Enseignement et Recherche) and Privat Docent
University of Lausanne (UNIL) and Lausanne University Hospital (CHUV)

Affiliations
University of Lausanne, Center for Biomedical Imaging (CIBM)
Lausanne University Hospital, Radiology Department (CHUV)
Ecole Polytechnique Fédérale de Lausanne, Signal Processing Laboratory (LTS5, EPFL)
Contact
Email: meritxell (dot) bachcuadra (at) unil (dot) ch
Phone: +41 21 314 67 75
Postal address: Centre de Recherche en Radiologie (RC7), Rue du Bugnon 46, CH-1011 Lausanne
Office: Rue Centrale 7, 4th floor, CH-1003 Lausanne
Research interests
I believe that an appropriate use of medical imaging requires a multidisciplinary approach. Medical image analysis is in a crossroad with many other research fields such as electrical engineering, physics, mathematics, medicine fields and computer science. My main research interests are related to quantitative analysis of medical imaging, driven by clinical and patient needs, and with the best possible integration of prior knowledge in this process. My research is focused but not limited to computational (neuro)anatomy, including reconstruction, registration and segmentation of healthy and pathological cases, from in-vivo foetal till elderly subjects. Specifically, our methodological contributions are applied in several clinical domains like neurosciences (foetal brain development, lesion segmentation and degenerative brain diseases) and in computer aided diagnostic and therapy in neurosurgery, oncology and radiology. My goal is also to facilitate true clinical adoption of the developed methods and tools by strongly engaging interdisciplinary joint effort of engineers and clinicians.
Publications
Committees & Conference organisation
Short Bio
Meritxell Bach Cuadra received her degree in Electrical Engineering (ETSETB) from the Universitat Politècnica de Catalunya (UPC), Spain, in September 1999. In December 1999, she joined the Computer Vision and Image Analysis Group at the Signal Processing Laboratory (LTS5) as a Ph.D. student under the supervision of Prof. Jean-Philippe Thiran. She obtained her PhD degree in November 2003 for her work "Atlas-based Segmentation and Classification of Magnetic Resonance Brain Images."
In June 2005 she joined the Biomedical Imaging Center (CIBM) as responsible of the SPC-CHUV Unit at the Radiology Department of the Lausanne University Hospital (CHUV). Her goal was to coordinate the fundamental medical image analysis research at  EPFL with the needs of expertise in signal/image processing of physicians and researchers at CHUV.
In March 2011 & March 2018 she is promoted to Senior Lecturer & Privat Docent at the Radiology Department, Faculty of Biology and Medicine (FBM) of the University Hospital and University of Lausanne where she teaches and develop her research.
In October 2019, she became the head section of the CHUV-UNIL Signal Processing module of the CIBM, named Computational Neuroanatomy & Fetal Imaging section.