Image: © Bob Martin
Authors: Mégane Spicher, Katharina Schwarck
One fine day in April, the university's shepherd, Bob Martin, generously agreed to meet us in front of his sheepfold to answer our questions and explain all about his sheep. [version française en-dessous]
Image: Deux Nez-Noirs au Géopolis © Katharina Schwarck
Could you say a few words about yourself, who you are, and why you are here?
My name is Bob Martin, I'm the university shepherd, and I've been looking after the sheep at the university since about 2013-2014. I'm in my forties, and then before this fabulous job I was a car mechanic. Yes, a radical change of profession, because I was a bit fed up with it, I felt that I had done all I could with that job, and then I wanted to work with animals, especially dogs. That's where I found this job that does a bit of both.
How long have you been looking after sheep?
I've been looking after sheep since I started here. It was all new to me. So since 2011 I've been in the sheep business a bit, and then in 2014 I took over the university flock.
Is there a certain breed of sheep, a certain kind of sheep that you have?
Yes, I currently have two breeds of sheep: the Nez-Noirs du Valais and the Roux du Valais. The Roux du Valais were originally endangered and the Nez-Noirs I chose for aesthetics, because I love them and they're a bit like plushies. I thought it would be nice to have a couple of plushies around the university. 
What do they look like? How do we recognize them?
Well, the Nez-Noirs are quite easy, hence their name: they are all white with black noses and then they have black spots on all their joints. And then the Roux du Valais are red. And the little bonus of these two breeds is that the females and the males have horns.
Oh yes! Because here I see some of them and they all have horns!
Yes, they ("elles", French feminine form) all have horns.
Ah, they are all females! And I see that you also use dogs. How do you work with them?
I have three dogs at the moment. I have a little bitch who is 5 months old that I have to train to take over for my very old dog [a dog suddenly becomes concerned and barks] who is now 11 years old. And then there's Will who's in the middle, who is 7 years old, he turned 7 this weekend by the way. I always work with two dogs and then I always have a 'spare' one in case one gets hurt [it's still barking] or for other situations.
Do the sheep have names? Or numbers? How are they recognised? What do you call them?
Officially they have a number, a BDTA number. They are registered in a Swiss database. And then all the sheep that have papers have a name and all my favourites have a name too. Let's say that out of the 260 that I have, there are about a hundred that have names, but I don't know them all by heart.
So are there some sheep that have a personality, that you can recognise, [the little dog barks] with whom you have a more special relationship?
Absolutely, yes! So I do have what we call my favourite. Punky, she's called. And she's also the one I take to classes, to schools, for example, because she's quite calm [the little dog really wants attention and barks again], and that's what's so nice. 
Is she the little one? 
Yes, I haven't taught her to stop barking yet. We'll make do. He laughs.
Are there any misconceptions about sheep, or anything we don't know at all? Something we think about sheep that is not true?
I would say the first misconception is that we always say that we are as stupid as a sheep or that we follow like a sheep. And it's true that we follow like a sheep, because they are animals who live in a herd. But they are far from stupid, I noticed. When you live with them every day, you can see that they all have their own character, and sometimes their own strong ideas. So that's what I also find nice about sheep.
Very interesting answer! And why are the sheep at UNIL specifically?
Well, there are sheep everywhere, but it's also a bit of an emblematic model of the university. Back in the day, UNIL's land was agricultural land and when they designed the first buildings, they decided to keep this system of sheep on the site. I think the sheep have been on the site since before we were born. I'm the third or fourth shepherd at the university. The sheepfold where the sheep are in winter – I bring them in between Christmas, New Year, until the first of April – this sheepfold that's just behind us has always been there, so it's really an iconic building of the university. It was built at the same time as the university buildings.
How do you decide where to put your sheep? Is there a schedule? Do you rotate them around the different parts of the campus?
Yes, we have a plot plan of about 45 plots for grazing on the university. Depending on the season, the growth of the grass, the work on the site, the events, and everything else around the university, we try to organise ourselves as best we can to graze these plots. We go on the plots between two and three times a year.
Are the sheep divided into small groups, or do they usually stay in groups of 260?
Now we have two flocks. There's a small flock for the small plots of eight to ten sheep, and there's a large flock that's between thirty and forty sheep for the large plots.
How did your partnership with UNIL start?
I trained as a shepherd at Châteauneuf, and in this training there was the lady who looked after the sheep at the university. That's how I got into the system and I had the opportunity to take over the flock.
Wonderful, so you are the successor! Do you use sheep as "natural mowers" elsewhere or only at UNIL?
Well, of my 260 sheep, between 30 and 50 graze at UNIL during the season. With the rest of the sheep, I use exactly the same system in Geneva's communes, or for the army, for the road service, for civil protection, for many other institutions.
Thank you very much!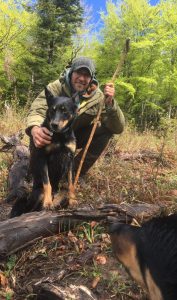 Image: © Bob Martin
ORIGINAL FRANÇAIS:
Un beau jour d'avril, le berger de l'université, Bob Martin, a généreusement accepté de nous rencontrer devant sa bergerie pour répondre à nos questions et tout expliquer sur ses moutons.
Image: Un Roux du Valais à l'ombre © Katharina Schwarck
Est-ce que vous pourriez dire quelques mots sur vous, sur qui vous êtes, sur pourquoi vous êtes là ?
Je m'appelle Bob Martin, je suis le berger de l'université, et puis ça fait environ depuis 2013-2014 que je m'occupe des moutons à l'université. J'ai une quarantaine d'années, et puis avant ce fabuleux métier j'étais mécanicien automobile. Oui, changement radical de métier, parce que j'en avais un peu marre, je sentais que j'avais fait le tour de ce métier-là, et puis je voulais travailler à la base avec les animaux, et surtout les chiens. C'est là où j'ai trouvé ce métier qui fait un peu les deux.
Depuis quand vous occupez-vous de moutons ?
Alors j'ai commencé à m'occuper de moutons en même temps que j'ai commencé ici. C'était tout nouveau pour moi. Donc depuis 2011 je suis un peu dans le monde des moutons, et puis depuis 2014 j'ai repris le troupeau de l'université.
Est-ce qu'il y a une certaine race de moutons, une certaine espèce de moutons que vous avez ?
Alors oui, moi j'ai actuellement deux races de moutons: il y a les Nez-Noirs du Valais et les Roux du Valais. Les Roux du Valais étaient à la base en voie de disparition et puis les Nez Noirs, je les ai surtout pris pour l'esthétique, parce que je les adore et c'est un peu des peluches. Je me suis dit que ça ferait bien autour de l'université d'avoir deux trois peluches. 
A quoi est-ce qu'ils ressemblent ? Comment est-ce qu'on les reconnaît ?
Alors les Nez Noirs c'est assez facile, d'où leur nom: ils sont tout blancs avec le nez noir et puis ils ont les taches de toutes les articulations qui sont noires. Et puis les Roux du Valais sont roux. Et le petit plus de ces deux races là, c'est que les femelles et les mâles ont des cornes.
Ah oui ! Parce que là j'en vois quelques-uns qui ont tous des cornes !
Oui, elles ont toutes des cornes.
Ah ce sont toutes des femelles ! Et je vois que vous utilisez aussi des chiens. Comment travaillez-vous ?
Alors là j'ai actuellement trois chiens. J'ai une petite chienne qui a 5 mois que je dois éduquer pour la relève pour ma toute vieille chienne [un chien se sent tout d'un coup concerné et aboie] de maintenant 11 ans. Et puis il y a le juste milieu Will, qui a 7 ans, qui a eu 7 ans ce weekend d'ailleurs. Et puis je travaille toujours avec deux chiens et puis j'en ai toujours un « de réserve » au cas où il y en a un qui est blessé [et il aboie encore] ou pour d'autres situations.
Est-ce que les moutons ont des noms ? Ou des numéros ? Comment est-ce qu'on les reconnaît ? Comment on les appelle ?
Officiellement, ils ont un numéro, un numéro BDTA. Ils sont enregistrés dans une base de données suisse. Et puis après tous les moutons qui ont des papiers ont un nom et puis toutes mes préférées ont un nom aussi. On va dire que sur les 260 que j'ai, il y en a une centaine qui ont des noms, mais je ne le sais pas tous par cœur.
Donc il y a quand même certains moutons qui ont une personnalité, qu'on peut reconnaître, [la petite chienne aboie] avec qui vous avez une relation plus particulière ?
Tout à fait oui ! Alors j'ai toujours ce qu'on appelle ma préférée. Punky, elle s'appelle. Et puis c'est elle aussi que je prends par exemple dans les classes, dans les écoles parce qu'elle est assez calme [la petite chienne a vraiment envie d'attention et aboie encore], et puis c'est ça qui est chouette. 
C'est elle la toute petite ? 
Oui, je ne lui ai pas encore appris à arrêter d'aboyer. On fera avec. Il rit.
Est-ce qu'il y a des idées reçues sur les moutons, ou quelque chose qu'on ne sait pas du tout ? Quelque chose qu'on pense des moutons alors que c'est pas du tout vrai ?
Je dirais la première idée reçue, on dit toujours qu'on est bête comme un mouton ou qu'on suit comme un mouton. Alors qu'on suit comme un mouton, c'est vrai parce que c'est quand même des animaux qui vivent en troupeau. Mais ils sont quand même loin d'être bêtes, j'ai remarqué. Quand on vit tous les jours avec eux, on voit qu'ils ont tous leur caractère, et puis aussi des fois leurs idées bien tranchées. Donc c'est ça que je trouve aussi sympa dans les moutons.
Très intéressant comme réponse! Et pourquoi les moutons sont à l'UNIL spécifiquement?
Alors, il y a des moutons partout mais c'est aussi un peu le modèle emblématique de l'université. A l'époque, le terrain de l'UNIL était des terres agricoles et quand ils ont dessiné les premiers bâtiments, ils ont décidé de garder ce système de moutons sur le site. Je pense que les moutons sont sur le site depuis avant qu'on soit nés. Je suis le troisième ou le quatrième berger de l'université. La bergerie où les moutons sont en hiver – je les rentre entre Noël, nouvel an, jusqu'au premier avril – cette bergerie qui se trouve juste derrière nous a toujours été là, donc c'est vraiment un bâtiment emblématique de l'université. Elle a été construite en même temps que les bâtiments universitaires.
Comment décidez-vous d'où placer vos moutons? Est-ce qu'il y a un planning? On les fait tourner sur les différentes parties du campus?
Oui, on a un plan parcellaire d'environ 45 parcelles pour brouter sur l'université. En fonction de la saison, de la pousse de l'herbe, des travaux sur le site, des manifestations, de tout ce qu'il y a autour de l'université, on essaye de s'organiser au mieux pour pâturer ces parcelles. On passe entre deux à trois fois par année sur les parcelles.
Est-ce que les moutons sont divisés en petits groupes, ou ils restent généralement en groupe de 260?
Maintenant on fait deux troupeaux. Il y a un petit troupeau pour les petites parcelles entre huit et dix têtes, et il y a un grand troupeau qui est entre trente et quarante têtes pour les grandes parcelles.
Comment a commencé votre partenariat avec l'UNIL?
Alors, pour la petite histoire, j'ai fait la formation de berger à Châteauneuf, et dans cette formation il y avait la dame qui s'occupait des moutons à l'université. Par ce biais-là je suis rentré dans ce système et j'ai eu l'opportunité de reprendre le troupeau.
Magnifique, donc vous êtes le successeur! Est-ce que vous utilisez des moutons comme "tondeuses naturelles" autre part aussi ou qu'à l'UNIL?
Alors, de mes 260 moutons, il y en a entre 30 et 50 qui pâturent à l'UNIL à la saison. Avec le reste des moutons, je fais exactement le même système dans des communes genevoises, ou pour l'armée, pour le service des routes, pour la protection civile, pour plein d'autres institutions.
Merci beaucoup!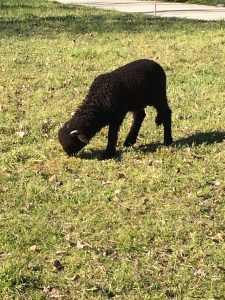 Image: Un agneau au Géopolis © Katharina Schwarck