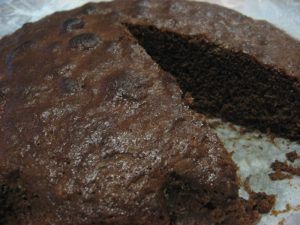 Author: Katharina Schwarck
This is a recipe for the absolute yummiest cake I have ever made and ever eaten in my whole entire life. It will make you drool, it will warm your heart, it will make you want more. You don't believe me? Try it yourself.
Ingredients for a cake pan of 28 cm:
120g soft butter or margarine
140g sugar
4 egg yolks
1 teaspoon cocoa powder
120g dark chocolate, grated
1 orange
            its zest
            3 tablespoons juice
4 egg whites
1 pinch of salt
2 tablespoons sugar
150g ground peeled almonds
60g zwieback
Preparation (about 30 minutes):
First of all, you'll need to preheat your oven to 180 degrees Celsius. You can also take out a cake pan and grease it already. Then, you take 120g of butter, shortly (very shortly!) put it into the microwave or leave it in the kitchen to heat up a little. Put the butter in a bowl, stir in the 140g of sugar and the 4 egg yolks, (don't forget to keep your egg whites for later!), continue stirring until the mixture turns light. Finely grate the 120g of dark chocolate (you can do so by just cutting it up with a big knife on a cutting board), add the orange zest and squeeze in 3 tablespoons of juice (or basically your whole orange). Add the cocoa powder and mix thoroughly.
In a different bowl, beat the egg whites with the salt until it's stiff, add 2 tablespoons of sugar and continue beating briefly until the beaten egg whites are shiny and bright like your future :).
Grind the 60g of zwieback finely by crushing it in a plastic bag with a rolling pin or something similar (I used to take them and break them with my hands over a bowl when I was little. I do not recommend). Mix with ground peeled almonds if you like them and you're not allergic (or take the risk, you never know).
Now, mix the chocolate-orange mix with the zwieback-almond mix. Then, pour layers of the beaten egg whites onto the mixture, carefully fold them in with a rubber scraper (carefully, I'm serious.) and fill the finished dough into the prepared form.
Bake in the lower half of the oven for about 50 minutes. Remove, leave it to cool a little, take the cake out of the mould, and let it cool some more on a rack.
To finish off your beautiful soul-warming cake, you can either throw some powdered sugar on top of your creation or, if you're feeling artsy, cover it with jam (apricot, more orange, or whatever you think would taste good) and add some orange slices. For the second option, warm up the jam in a small pan with some water, pass the mixture through a sieve, and spread the cake with it.
Enjoy!
PS: if you adapt the heat and time a little, the dough can also perfectly be made into little muffins.