Tommaso Pavan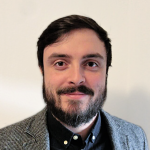 PhD Candidate
Dept of Radiology, CHUV/UNIL
Email: tommaso.pavan@chuv.ch
Mailing address: Centre de Recherche en Radiologie PEP3, CHUV
Rue du Bugnon 46, 1011 Lausanne, Switzerland
Office: PEP3-02-240, Rue Pépinet 3, 1003 Lausanne, Switzerland
Grew up in northern Italy, I undertook a Bachelor's degree in Cognitive Psychology and Psychobiology at the University of Padua, during which I had an intern position at the High Specialization Rehabilitation Hospital (O.R.A.S Spa) where I gained experience in neuropsychological evaluation for patients with severe brain injuries.
After graduating in 2018, I moved to northern Germany where I pursued a master in Neurocognitive Psychology. Throughout my studies, I worked as a student assistant and tutor at the Department of Psychological Methods and Statistics and the Department of Paediatrics at the Carl von Ossietzky Universität of Oldenburg. As a research assistant, I extensively investigate the role of morphology and microstructures and the relation with the functional network of the neonatal brain.
Last but not least, I did my master studies internship at the Communication Acoustics lab of the Department of Medical Physics and Acoustics always at the University of Oldenburg, where I worked on a project on neural speech tracking and attention modulation in EEG data.
Currently, I am a PhD candidate in neuroscience at the Microstructure Mapping lab of the Department of Radiology of the Centre Hospitalier Universitaire Vaudois (CHUV). Having a keen interest in computational neuroscience and quantitative MRI, I am currently focusing my research on the characterization and translation of microstructures models for early diagnosis and prognosis of schizophrenia.