Saina Asadi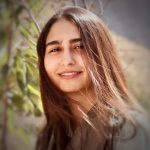 PhD Candidate / Co-affiliation with Connectomics Lab
Dept of Radiology, CHUV/UNIL
Email: saina.asadi@chuv.ch
Mailing address: Centre de Recherche en Radiologie PET3, CHUV
Rue du Bugnon 46, 1011 Lausanne, Switzerland
Office: PET3-02-240, Rue Pépinet 3, 1003 Lausanne, Switzerland
I am a PhD student at the Lemanic Neuroscience Doctoral School.
I was born and raised in Tehran, Iran.
After obtaining my BSc in Physics at Alzahra University, Tehran, I started to familiarise myself with scientific advances in the field of neuroscience and cognitive sciences. I attended related courses at Sharif Interdisciplinary School in Tehran, through which I developed a strong interest in the field. I, therefore, chose to join the Master in Neuroscience at the University of Geneva. My studies allowed me to build a solid skillset in computational and clinical neuroscience through my thesis project investigating "Functional connectivity and its association with the presence and topography of amyloid and tau pathology in ageing", as well as my internship project on "Individual prediction of tau-spreading within the Alzheimer's continuum".
My work as a PhD candidate focuses on axonal diameter mapping and conduction speed across the brain, using tractography and more generally connectomics approaches. This project will provide a novel brain atlas of cortico-cortical and white matter conduction delays, axonal fiber density, and other microstructural parameters. I have a joint affiliation between the Microstructure Mapping Lab and the Connectomics Lab of Patric Hagmann.