Kaïros is a learning platform developed by UniDistance Switzerland that offers a digital skills development pathway based on the European DigComp reference framework.
The "Digital Skills" pathway developed within the framework of the P8 Future University project offers each student the opportunity to start with a diagnostic test that will position him/her according to his/her failures and successes. He or she will be able to progress in his or her learning at his or her own discretion or by being guided by an adaptive algorithm.
Finally, it is planned to issue a certificate of competence by means of a standardised adaptive online test.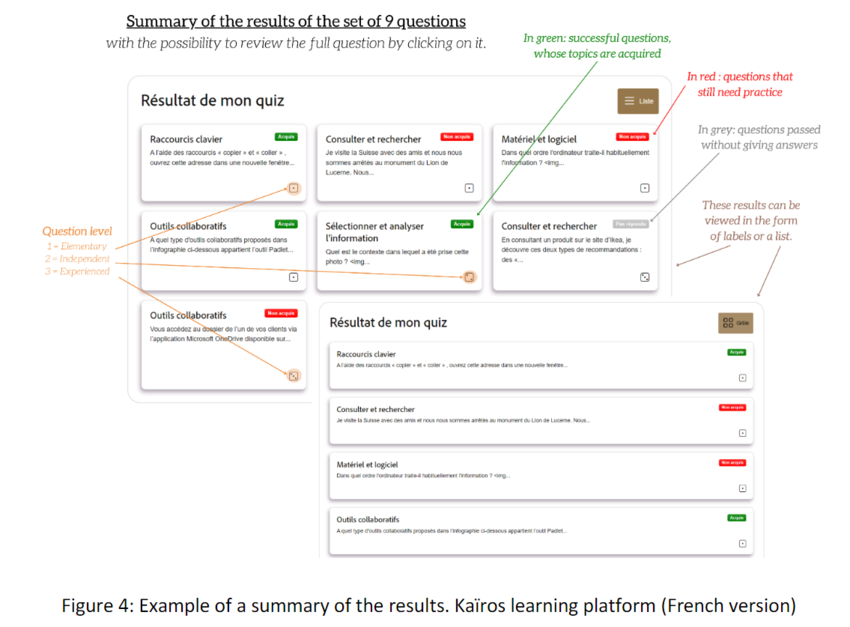 Publications
Bonvin, Mélanie, Baillifard, Ambroise & Thurre, Alice. (2022). Kaïros: the why, what and how of a digital learning platform.
Conference paper (p730)
Bonvin, Mélanie, Baillifard, Ambroise & Thurre, Alice. (2022). Kaïros: the Why, What and How of a Digital Learning Platform. Presentation.
DOI 10.13140/RG.2.2.34221.56805
Deliverables
Identify the priority competences of DigComp for UNIL and UniDistance students
Launch of a first version with a target of 5 courses out of a total of 15 planned by the end of 2024
Development of the creation of courses, questions and the platform until 2024