Image: Forest © Julien Chalendard. Source – CC Licence
Author: Anonymous
App Review: Forest – "Stay Focused, By Present
Forest is a mobile phone app and Google Chrome extension that you can download for free on Chrome and on Android, and that costs to download on iOS. The premise of the app is fairly straightforward: "Stay focused, be present."
How does it work? You build a (virtual) tree!
How do you grow a tree? By not using your phone!
The idea is that you decide how long you'd like to stay focused and not use your phone. Depending on the amount of time you select, your tree will be small or large. You press on "plant", and from that moment on, your tree starts growing! In case you open your phone, the tree will encourage you to get back to work, for example by saying "Stop phubbing!". If you switch apps, your tree will die. If you don't want to kill your tree, you need to remain focused/not use your phone until the time is up! Some apps can be whitelisted, a feature you can customize to your liking.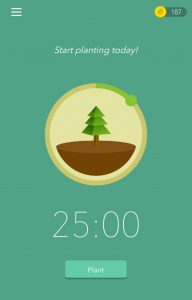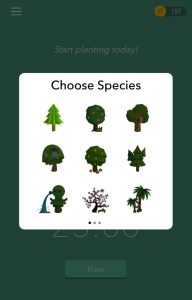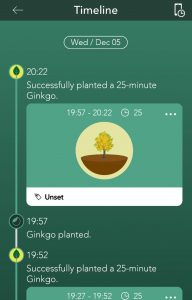 Images: © Forest

With every tree grown you receive a certain amount of coins. Once you've collected enough coins, you can spend them either by buying new types of trees or bushes, or, if you're premium, you can spend them in-game on the "Real Forest" app, after which Forest donates to Trees for the Future, a tree-planting organization.
My favorite part about the app is that it gives me statistics about how many trees I've grown, at what times, etc. It lets you create adorable little forests (pictured below) that give you daily, weekly, monthly and yearly views of your work. It also gives you a timeline (pictured above), in case you'd like more details. You can definitely use this app to track your working habits and, if used over a long period of time, at what times of day you tend to work more/better.
You can also sync it with friends so you can build a forest together!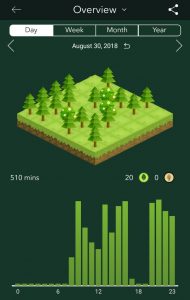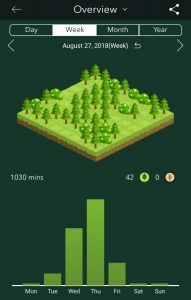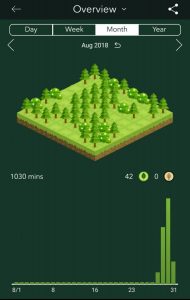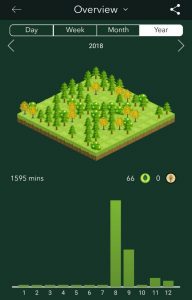 Images: © Forest
I have not been using this app as often as I could. But, it has definitely come in handy on those days where I seem to always be reaching for my phone. It has become especially useful for me when I combine it with the Pomodoro technique, which I have been using for years! I highly recommend checking it out. The combination Forest-Pomodoro has personally helped me stay productive and motivated to work during the day ("a little 25-minute tree won't hurt!"). One unfortunate thing is that I work ideally with a Pomodoro of 23 minutes, but the Forest app only allows multiples of 5 minutes. My solution has been setting for 25 minutes and starting my break even if I finish 2 minutes before the tree has grown.
One of my only complaints about the app is that I have it set so that my phone vibrates when the tree is grown, except that it never vibrates (or I just don't notice). I could set a ringtone, but it's not great for libraries and other study spaces. I haven't found a solution to that yet :(
If you think that using an app to curb your phone usage is sad and that it's pathetic to reach that point… That's fair. Good luck to you!
If you think that this is something that could benefit you… I say go ahead!
If you're on the fence and are an Android user or if you're ready to get the Google Chrome extension, it's a free download so you might as well try it out. Maybe it works for you, maybe it doesn't!
If you like the idea and have issues keeping regular sleeping habits, you can check out their other app SleepTown where you set sleeping goals and build houses!
In any case, good luck with your assignments and happy tree-growing!