Yujian Diao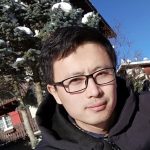 PhD Candidate
Laboratory for Functional and Metabolic Imaging, EPFL &
CIBM – Animal Imaging and Technology, EPFL
Phone: +41 21 693 7985
Email: yujian [dot] diao [at] epfl [dot] ch
Mailing address: EPFL AVP CP CIBM-AIT, CH F1 602 (Bâtiment CH),
Station 6, CH-1015 Lausanne, Switzerland
I am a PhD candidate in the Department of Physics at EPFL.
I obtained my Bachelor degree in biomedical engineering from Shandong University of Science and Technology in China in 2010. After that I worked in a hospital as equipment engineer. Then I obtained a Master degree in Physics in 2014 from East China Normal University. Since 2014, I was a MRI system engineer in Philips Healthcare. In 2018, I started my PhD study in Laboratory for Functional and Metabolic Imaging and CIBM Center for Biomedical Imaging at EPFL, supervised by Rolf Gruetter and Ileana Jelescu.
My work is characterizing structural and functional connectivity in the brain using diffusion and functional MRI, focusing on technical developments and applications to animal models of Alzheimer's disease.