Dana Naous defended her PhD thesis "Understanding User Perceptions and Preferences for Mass-Market Information Systems – Leveraging Market Research Techniques and Examples in Privacy-Aware Design" on October 30, 2020.
Members of the jury were Prof. Christine Legner as supervisor, Prof. Kevin Huguenin as internal expert, Prof. Hanna Krasnova (University of Potsdam) as external expert and Prof. Felicitas Morhart as vice-dean and president of the jury.
Abstract of the thesis:
With cloud and mobile computing, a new category of software products emerges as mass-market information systems (IS) that addresses distributed and heterogeneous end-users. Understanding user requirements and the factors that drive user adoption are crucial for successful design of such systems. Existing IS theories and models contribute to a theoretical understanding of the adoption and use of IS in mass-markets, however they are criticized for not being able to drive actionable insights on IS design as they consider the IT artifact as a black-box. We argue that IS needs to embrace market research techniques to understand and empirically assess user preferences and perceptions in order to integrate the "voice of the customer" in a mass-market scenario. We aim at supporting the design of mass-market IS by establishing a reliable understanding of consumer's preferences for multiple factors combing functional, non-functional and economic aspects. We apply our findings to the privacy-aware design of mass-market IS and evaluate their implications on user adoption.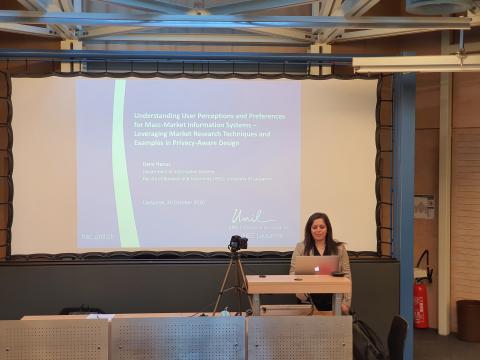 The entire team congratulates Dana on his successful PhD defense. We also thank her for her excellent support of the Master course "Analysis, Modeling and Design in IS".