Hello everybody!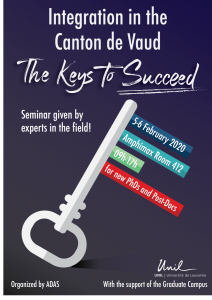 With the support of the Graduate Campus, ADAS is organizing a seminar on:
Integration in Canton de Vaud: the keys to succeed
5-6 February 2020
09h00-17h00
Amphimax room 412
This two day seminar will take place on 5th and 6th February 2020, from 09h00 to 17h00 at Amphimax room 412. Registration is open to all PhDs and Post-docs of the University of Lausanne, on a "first come, first served" basis, as the number of seats is limited.
As you may know, when PhDs and Post-docs arrive to UNIL, they have many administrative affairs to attend in order to settle in Lausanne. Most of the time, if you do not speak French, it becomes a nightmare. With this two day seminar, we offer you the opportunity to understand the Swiss system and ask all the questions you may have about it in English. The aim of this seminar is to give you useful information that will help you in your administrative, social and cultural steps into the wonderful region of Canton de Vaud. You will receive tools to have a better understanding and use of Lausanne institutions, which will ease your integration in the city and reduce the stress caused by your new environment. This way, you will succeed with your social integration in the Lemanic region.
This seminar will be given by two experts in the integration in Lausanne: Brigitte Gonzalez-Ostos and Douglas Gonzalez. Together, they accumulate more than 40 years of experience in welcoming and integrating foreign people in the Canton de Vaud. Furthermore, they have excellent knowledge in the field and institutions of Lausanne, Vaud and Switzerland. Mrs. Gonzalez-Ostos is an engineer with a MAS in sustainable urbanism delivered by the UNIL, she was part of the Consultative Cantonal Commission of Immigrants for several years. Mr. Gonzalez is an engineer with a MAS in Public Health delivered by the UNIGE. He is the former president-founder of the Foreigners Forum of Lausanne. Together, they are part of the Sociolution Network and Web for Migrants. Currently, they give workshops for Swiss Naturalization, granted by the City of Lausanne.
If you are interested in following this seminar, please fill in the registration form below:
(all fields are required)
[contact-form-7 id="26451″ title="Registration Integration in Canton de Vaud"]
We hope to see many of you soon!
Liliane Broye for ADAS