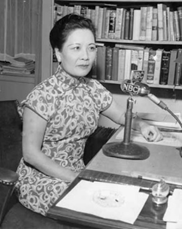 Women's History Network Annual Conference: 'Addressing the Nation'
2 and 3 September 2022 (Online via Zoom)
Autumn 2022 marks the centenary of the BBC. From almost the very start, women worked in many capacities including behind the scenes, making programmes and speaking on air. This conference will explore how women across the world were 'addressing the nation' and other political and social communities. Not just as broadcasters but also, for example, as activists, actors, journalists, writers, cartoonists, orators, storytellers and public figures. It encompasses all places and time periods.
We invite submissions of 150 – 200-word abstracts for 15 -minute papers which take a critical look at these areas of history. Proposals are welcomed from scholars working at all levels including those without an institutional affiliation. We also welcome proposals from non-academics working in, for example, heritage or other areas of public or community history.
As part of WHN's mission to support postgraduate scholars, we also welcome and encourage participation from post-graduate researchers interested in any other areas of Women's History to the Open Strand. Contributors to this strand are asked to propose a 10-minute lightning talk only.
All submissions must be on the downloadable form available here: Submission of Abstract Template 2022
Please email to: whnconference2022@gmail.com by 31 March 2022.