Colloque
« Dentro il cristallo arcano : Verdi on Screen »
sous la direction de Laurent Guido, Delphine Vincent et Luca Zoppelli
27-29 novembre 2013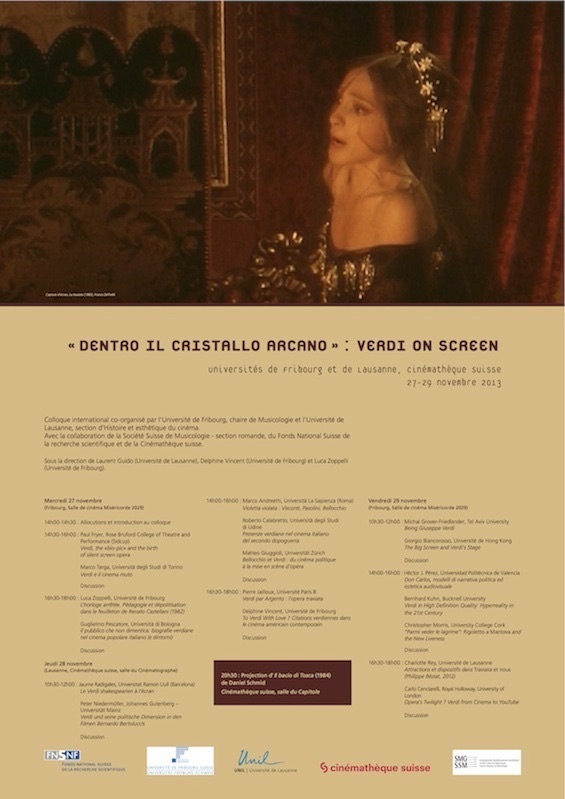 « Dentro il cristallo arcano : Verdi on Screen » is a conference jointly organized by the Universities of Fribourg (department of Musicology and History of Music Theater) and Lausanne (department of History and Aesthetics of Cinema) as part of their research activities concerned with the relation between music and moving image. It is organized in collaboration with the Cinémathèque Suisse (National Film Archive). The conference will take place in Fribourg and Lausanne from November 27 to November 29, 2013.
Giuseppe Verdi and his work occupy a central place in the public's mind. His image has always been subjected to complex and contradictory forms of popularity. Among these forms are those related to the moving image which took a central role in the twentieth century and persist until today. In celebration of Verdi's 200th anniversary year, while the number of opera relays and other video productions is exploding and as research is granting increasing importance to film music, this conference aimes to examine how the meaning of Verdi is conveyed by/for this media.
Among the topics being considered are: opera-films based on Verdi works, opera relays, movie sountracks exploiting his music, biopics, Verdi's portrayal in the media (advertising, television, etc.).
Programme
Voir aussi la page de la Section d'histoire et esthétique du cinéma.