In the IUCN-UNIL partnership, we regularly collaborate on research. This includes mentoring students on research projects, writing project proposals together, and having IUCN staff as associated researchers.
Unblocking the flow of biodiversity data for multi-stakeholder environmental sustainability management
30 March 2022
This exciting cross-disciplinary, multi-stakeholder collaborative project aims to unblock the flow of biodiversity data for natural resource managers in the public and private sectors to enhance biodiversity conservation.
Co-ordinated by Dr Luca Fumagalli and Dr PJ Stephenson, and funded by the Swiss Network for International Studies.
Biodiversity is under threat.
Species populations are declining, species conservation status is worsening, and more and more organisms are going extinct. Species communities are also being disrupted by climate change. This biodiversity crisis jeopardises the ecosystems we all depend on.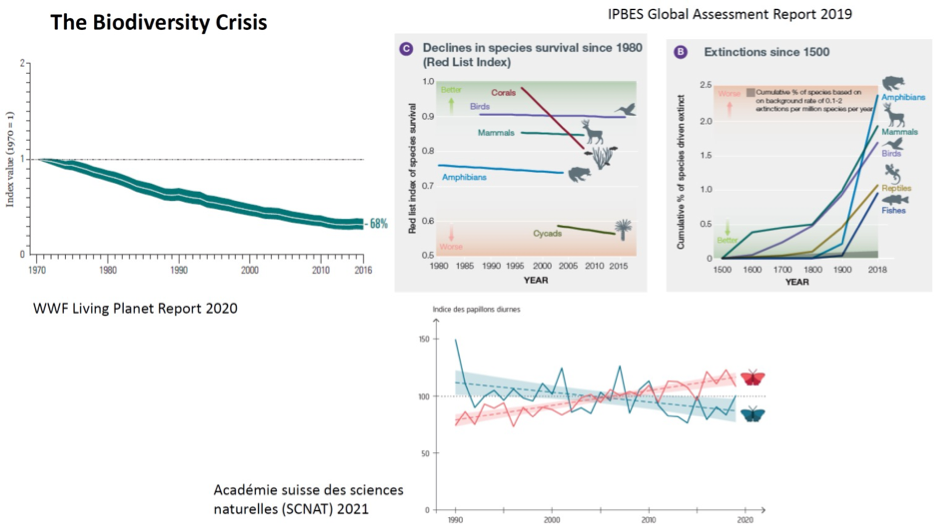 The conservation and sustainable use of biodiversity is essential for the wellbeing of people and nature. Governments, businesses and conservation organisations therefore need up-to-date information to manage and protect animals, plants, fungi and their habitats. Key data needed include indicators such as the abundance and distribution of species and the scale of the threats they face, as well as conservation status. We also need data to understand the progress of conservation projects and business mitigation measures. However, data on biodiversity are often difficult to collect or access and are rarely available in formats that allow them to be understood easily and acted upon. This manifests itself in different ways, such as weak planning and poor reporting.
A number of challenges prevent the use of biodiversity data in decision-making. These include a lack of capacity and tools for identifying indicators and collecting, analysing and interpreting data. Advances in technological tools, such as remote sensing and environmental DNA have also left many actors behind. Biodiversity monitoring schemes and databases have taxonomic and geographic biases and data access limitations and many institutions fail to follow data management best practices. Therefore, many stakeholders, from government departments to businesses, struggle to identify appropriate indicators for monitoring biodiversity, sources of existing data they can use, and the relevant monitoring tools for collecting their own.
This multi-disciplinary, collaborative project will therefore bring together experts from conservation biology and business sustainability to explore biodiversity data user needs across sectors and identify the reasons behind blockages to data flow and access, thereby helping us develop solutions.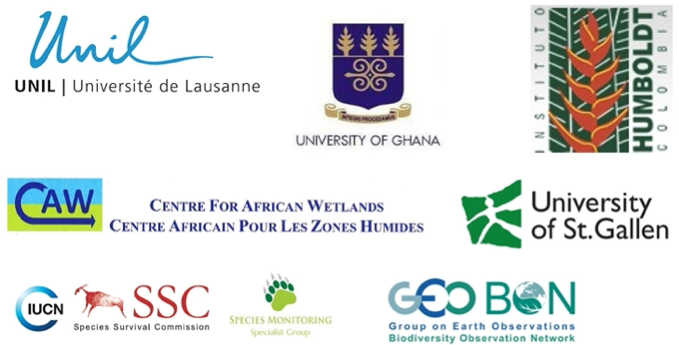 The project is led by UNIL with the main implementing partners being the University of St Gallen, the Centre for African Wetlands in the University of Ghana and the Humboldt Biological Resources Research Institute in Colombia. It also represents a collaboration with the IUCN SSC Species Monitoring Specialist Group, as well as the Group on Earth Observations Biodiversity Observation Network – GEOBON. We will also work with a wide range of research institutions, government agencies, international organizations, NGOs and companies.
Our project goal is: To assess the biodiversity data needs of international organizations, governments, civil society and business, to understand blockages to data flow and capacity development, and to produce solutions that facilitate monitoring and informed decision-making for conservation and sustainability.The findings of this study will have broad policy implications by helping stakeholders monitor and report on their contributions to the post-2020 Global Biodiversity Framework of the Convention on Biological Diversity and the Sustainable Development Goals, as well as multilateral environment agreement commitments (e.g. Convention on Migratory Species; Convention on Trade in Endangered Species of Wild Fauna and Flora).
The project will therefore strive to bring together the empirical and theoretical perspectives on biodiversity data access and use and find solutions linked to user needs and policies.
Two short videos of PJ explaining the project are available on the Donor's Website .
For further information contact Dr PJ Stephenson at peterjames.stephenson@unil.ch.
Biodiversity restoration: local projects under scrutiny
14 March 2022
"This Spring (2022), a new collaborative applied research project will start, focusing on the interface between community led restoration and international policy, with a focus on Europe. Jenny Kelleher of IUCN, Gretchen Walters and Olivier Hymas of UNIL are the project co-leaders along with colleagues from the Swedish University of Agricultural Sciences and the Snowchange Cooperative (Finland). You can read more about the project in English or en français."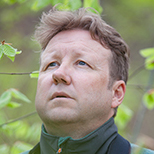 In the Faculty of Biology and Medicine, Dr. PJ Stephenson, head of the IUCN Species Monitoring Specialist Group is based in the Department of Ecology and Evolution.
Since 2020

In the Faculty of Geosciences and the Environment, Dr. Flore Lafaye de Micheaux, IPBES (International Panel of Biodiversity and Ecosystem Services) Program Officer is an external scientific collaborator of the Institute of Geography and Sustainability.
From 2019-2021, she was affiliated with IUCN and the UNIL-IUCN partnership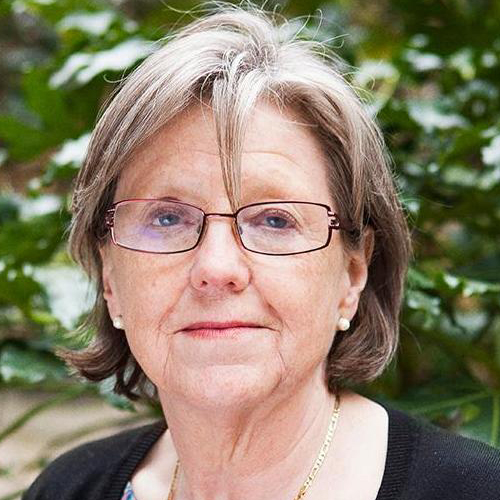 In 2018, UNIL awarded an honorary doctorate to the late Prof. Georgina Mace of the IUCN Species Survival Commission, with associated full day colloquium, organised by Faculty of Biology and Medicine.
Many UNIL professors and staff are affiliated with IUCN through their six Commissions. Past joint research projects have included Ecosystems Protecting Infrastructure and Communities (EPIC). Many collaborate on joint publications.