To close the conference, we have organised a series of optional cultural and historical excursions in and around the Lausanne area for the afternoon and evening of Saturday 30 March.*
Abbey of St Maurice
Leaving the UNIL campus at 1.30pm, we will take a private coach eastwards along the northern shore of Lake Geneva to the medieval Abbey of St Maurice and its adjoining archaeological site. The abbey dates back to the 6th century, when it was founded to house the shrine of the martyr St Maurice, believed to have been killed nearby by Roman troops for his Christian faith in the late-3rd century AD.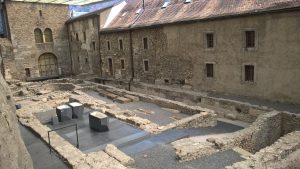 The audio-guided tour around the abbey and archaeological site (approx. 90 mins) tells the story of St Maurice and the development of his cult, while leading you through the excavated remains of the earliest Christian churches on this site. The tour finishes in the abbey's magnificent treasury, which houses a vast collection of relics, exquisite reliquaries, and other precious objects from the medieval period.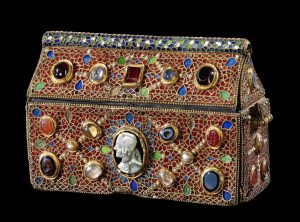 Wine tasting
Leaving the Abbey at 5pm and making our way back towards Lausanne, the coach will stop at Grandvaux at 6pm for a wine-tasting event in the beautiful surrounds of the Domaine Croix-Duplex, situated at the heart of the UNESCO-listed vineyard terraces of the Lavaux region.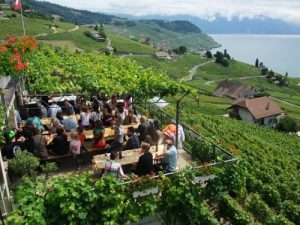 You will have the opportunity taste four different locally-produced wines, accompanied by pre-dinner nibbles of bread, Gruyère cheese, and sausage. Those who don't wish to stay for the wine-tasting can take the train back to Lausanne (a short 15 min train ride) from Grandvaux at 6pm.
Traditional Swiss fondue
Finally, at 7.30pm, our coach will return to Lausanne to drop us in the centre of town at the historic Pinte Besson for a traditional Swiss fondue dinner at 8pm.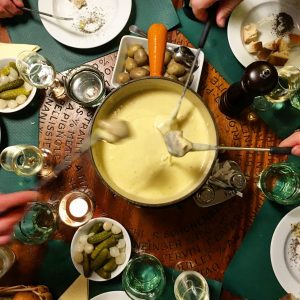 Opened in 1780 by a local wine seller, this little bistro is considered the oldest in Lausanne. Read about the establishment's history (in French) here.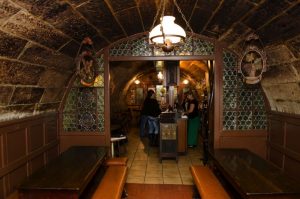 *The fondue dinner is pay-as-you-go, and a fondue costs 24 CHF per person. The abbey visit and wine-tasting trip (including return transport to and from Lausanne) is generously subsidised and bookable for an optional fee at registration.