Sebastián Vivero (MSc)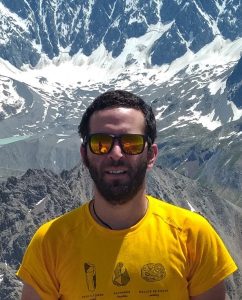 I conduct research and field activities in high-mountain cryosphere in the Swiss Alps, Central Andes and the Southern Alps of New Zealand. I am mainly focused on:
– Rock glacier and glacier monitoring.
– Close- and long-range remote sensing techniques.
– High mountain geomorphology.
– Periglacial environments.
CURRICULUM
Sketchfab 3D Model Collection
PhD Project
Short- and long-term rock glacier velocity variations
Active rock glaciers are a significant component of the cryosphere in many mountain regions, where favourable geomorphological and climatic factors allow their development. Rock glacier movement represents the manifestation of creeping mountain permafrost, which has received considerable attention about their current dynamical changes in the European Alps. Recent developments in the field of Unmanned Aerial Vehicles systems and digital photogrammetry are providing an upsurge of high-resolution data, together with the enhancement of image processing and acquisition procedures. Additionally, relative and absolute age dating techniques are increasingly employed to decipher landform origin and evolution. The combination of high spatial resolution datasets together with improved landform age estimations can bring new insights for the understanding of rock glacier dynamics. This PhD thesis aims to test these new instruments and data processing protocols for studying rock glacier velocity variations in different locations and improving our understanding of landform evolution.
Contact:
Assistant diplômé & PhD Student
Institute of Earth Surface Dynamics (IDYST)
Bureau 3109 – Géopolis
Quartier UNIL – Mouline
University of Lausanne
1015 Lausanne, Switzerland
email: sebastian.viveroandrade@unil.ch
Phone: +41 21 692 43 39
Mobile: +41 79 391 31 64