Cette publication est également disponible en :

Français
---
This series of conversations brings you the thoughts of our research community on field practice and how it is evolving. See also :
---
As a paleontologist, prof. Allison Daley is passionate about the major events in the history of life and the early evolution of animal species. Her approach is to focus on specimens of exceptional preservation quality, enabling her to unravel the mysteries of animals long since extinct.
Working in the laboratory at ISTE, but also on fossil sites in Morocco, she tells us about the changes taking place in her field and her actions to promote more inclusive teamwork.
What's field work like in your field?
In my field of paleontology, there are two main types of fieldwork.
The first is exploration, with the aim of finding new fossil localities. This can be a challenging quest, even if you have good geological maps and try to target outcrops where you are likely to find new fossils. Access is also sometimes complicated, and a helicopter may be required.
The second involves collecting samples from sites that are known to be rich and interesting. We spend weeks or months sampling specimens, and documenting their stratigraphic and sedimentological context.
Where is your main fieldwork based?
My work is based mainly in Morocco. I work a lot on the Early Ordovician Fezouata site, which contains fossils in an exceptional state of preservation. We can find animal soft parts, sometimes even their internal organs. And this site dates back to a period that fascinates me: just after the Cambrian explosion, but before a second great evolutionary radiation that followed during the Ordovician. Analysis of these fossils opens up fascinating perspectives on the early history of the Earth and the origins of biodiversity.
What local partners do you work with?
My team and I go there on average once a year. But most samples are collected by a local professional collector, Ou Said Ben Moula, and his family, with whom we work a lot. He's the one who found this exceptional outcrop and introduced it to paleontologists. He has no training in geology, but he knows the terrain like the back of his hand and has acquired incredible knowledge.
Mr Ben Moula attaches great importance to scientific research and knows how to recognize rare fossils of great value to paleontology. He therefore offers these specimens to museums and research institutes in the field (in Lausanne, Harvard, the Czech Republic…). He also runs a fossil shop, where he sells more standard fossils with less scientific value from all over Morocco.
In certain regions of Morocco, the economy is based on the sale of fossils. Entire villages are dedicated to the research and preparation of specimens – such as the trilobites sold in "fossil fairs" – and to the sale of rocks containing shelly fossils, often used in construction as decorative building stone.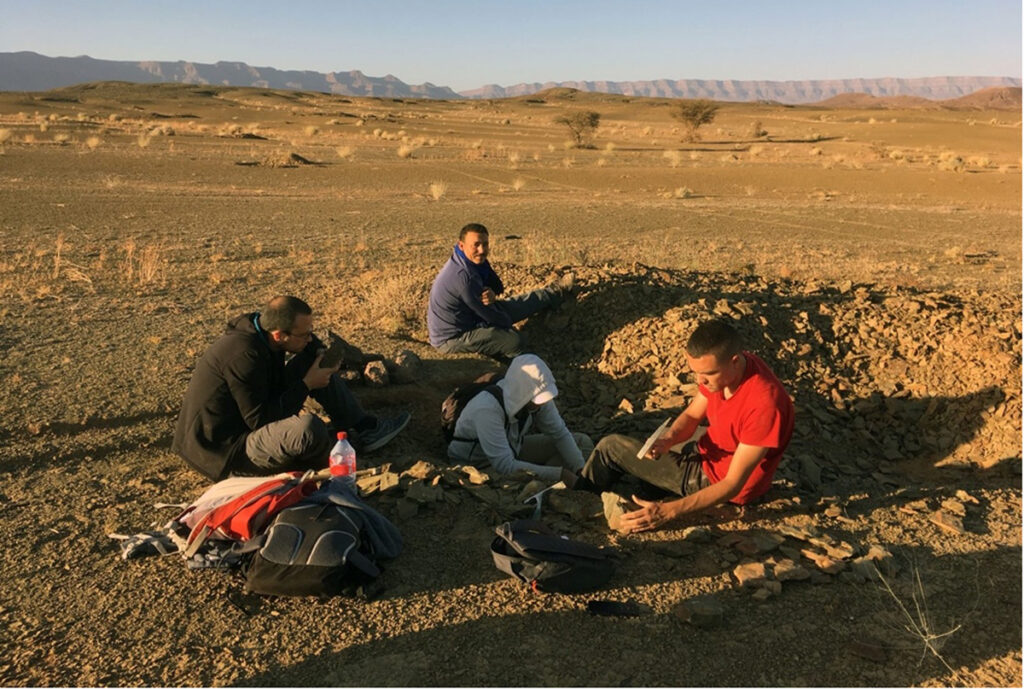 What happens to fossils from Morocco?
Today, the sale of fossils is a highly controversial business. The practice is sometimes perceived as "plundering" a region's natural heritage. For my part, I understand the aspiration to preserve fossils locally within a Moroccan institution, and I hope that in time this will be possible thanks to the development of infrastructure in Morocco. However, as things stand at present, exporting is still the best way of studying these specimens and preserving them for the long term.
Paleontology is undergoing major changes. There is a growing awareness of a colonialist past. It's true that Western countries have collected and appropriated many specimens, often without any compensation for the regions from which they came. Fortunately, attitudes and mentalities are changing, and there is hope that the situation will improve.
Interesting initiatives are beginning to emerge. For example, each sample of the Fezouata collection currently housed at the University Claude Bernard Lyon 1 was imported from Morocco and assigned a specimen number belonging to the Marrakech Collections of the Cadi Ayyad University of Morocco, with a view to eventually return them to a future museum in Marrakech. For the moment, Lyon is simply housing these specimens, pending the establishment of a local infrastructure when the samples are returned.
This initiative has inspired me personally, and I'm currently building collaborations with professors and museums in Rabat and Agadir. I hope that when the right equipment is available locally, we'll be able to transfer the collections to these Moroccan institutions. In this way, we will contribute to the preservation of the country's paleontological heritage and promote scientific research at a local level.
"I think practices are evolving in the right direction, and I'd like to be part of the change."

Allison Daley
What local collaborations exist with researchers?
The scientific expertise and interest of local people in paleontology has increased. Khadija El Hariri is an active researcher and champion of the Fezouata locality, with whom we have co-authored several articles on the analysis of the preservation of soft parts from the Fezouata site. Vice-President of the International Paleontological Association and a researcher at Cadi-Ayyad University, Khadija El Hariri is extremely committed to the preservation of fossil sites. Together with Khadija and other researchers from Morocco, France, Belgium, Spain and Switzerland, we worked towards having the Fezouata locality designated as one of the First 100 IUGS Geological Heritage Sites. Led by a collection of Moroccan universities and local organizations, there is also an initiative to create a UNESCO geopark in the Draa Valley region, so that the paleontological and archeological sites can be recognized and protected as a landscape of international importance, and contribute to education and sustainable development.
Requests for geoparks always come from the country concerned, because if the project goes ahead, it will bring a huge amount of change. For example, the direct sale of fossils will be prohibited, even though many families make a living from this trade. In return, however, the project will enhance the region's natural heritage and promote tourism. This could create a number of wonderful opportunities, such as the creation of a local museum in Zagora, or awareness-raising activities in schools. It could also strengthen people's connection to their region.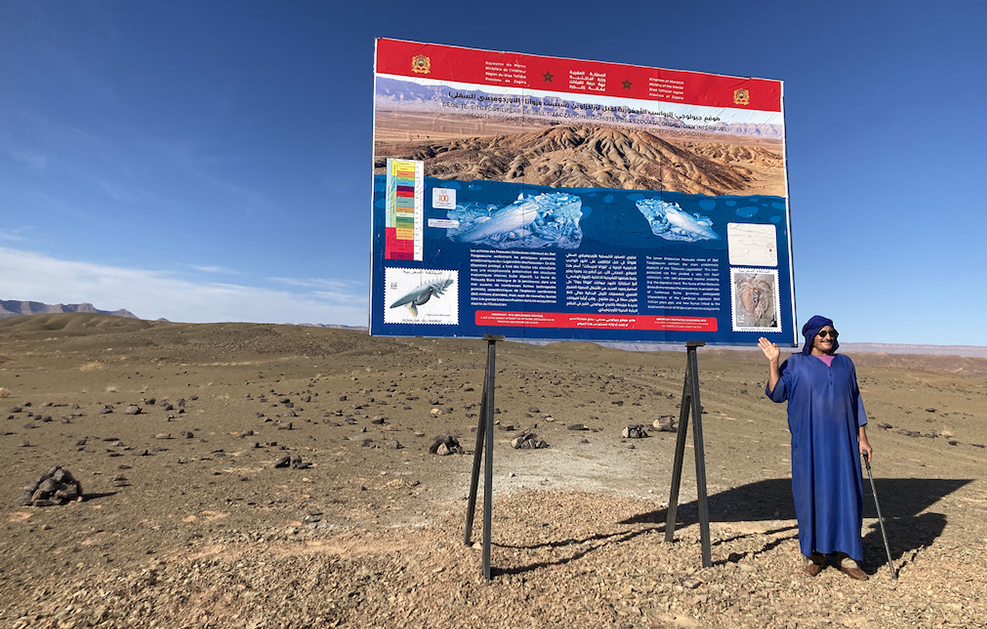 What do you see as your role as a researcher in a Swiss institution?
I've been invited to sit on the scientific committee for this UNESCO application. I comment on the documents, explaining the scientific importance of the site. But I'm not involved in the political decision, which is up to the region.
My role as a foreign researcher is also liked to training early career researchers, for example in the scientific methodologies of phylogeny and taxonomy. This is not always easy. Some Moroccan students, although brilliant and motivated, do not qualify for a PhD in Switzerland, or not directly, if they come from a university that's too technical, for example, or because we can't get funding. Our university certainly needs to think about how it can welcome and train promising foreign candidates.
For my part, I support early career researchers from Morocco in their applications to federal grants, and I hope that soon I will be able to welcome doctoral students and postdocs from Morocco here in Lausanne.
Do you need special authorization to collect and bring back samples?
Yes, we have to announce our arrival locally and regionally. This is important for safety and transparency. During our last exploration, it was professors from Agadir who helped us with these formalities and notified the village council.
The export of collected samples is also regulated by permits. It's a fairly cumbersome, time-consuming procedure. But it ensures the traceability of the fossils. The Fezouata fossil collection we purchased for UNIL was exported after permits were obtained from the Ministry of Energy, Mines and the Environment of the federal government of Morocco.
Any advice for young researchers? What do I need to do before going out in the field?
It's not always easy to find out what you need to do before going out into the field. Who should I contact? Who provides authorizations? Good information is essential. For this, of course, a local contact is ideal. He or she will be in a better position to know the procedures, which are not always available on the Internet.
What do you pay attention to when preparing the site? What's changed today in the way excavations are organized?
When I started conducting fieldwork as a young researcher, the question of inclusion didn't arise at all. I sometimes reported situations in which I felt uncomfortable, or even dangerous. I was then confronted with insulting reactions aimed at ridiculing me.
These are now discussions that I consider essential and that I lead within my group. I don't want people to find themselves in situations like mine. We attach great importance to mutual respect, so that concerns and difficulties are expressed and taken into account. We have these exchanges before going out into the field, but also in our day-to-day work. We therefore go beyond the FGSE's recommendations, which include a pre-departure risk assessment [Directive sur la sécurité et les mesures de protection pour le travail de terrain]!
It's encouraging to see that these ideas are gaining in visibility, not only at palaeontology conferences, but also in scientific journals in the field. This testifies to a positive evolution in the scientific community. Discussions also address issues specific to women, such as pregnancy, to ensure participation in fieldwork without discrimination.
What are your plans for the future?
An ambitious project that combines paleontological studies with tourism studies… There are some exciting collaborations in the pipeline, notably with a partner involved in the Geopark.