PhD position to work on a newly discovered endocytic pathway starting January 2022
We are seeking to recruit a highly motivated PhD student to investigate the mechanistic aspects of cell-penetrating peptide (CPP) entry into cells. The PhD student will in particular work on a newly identified endocytic pathway that we have discovered and that needs now to be further characterized at the molecular, mechanistic, and physiological levels. Please refer to our Research page for information on the ways CPPs enter cells.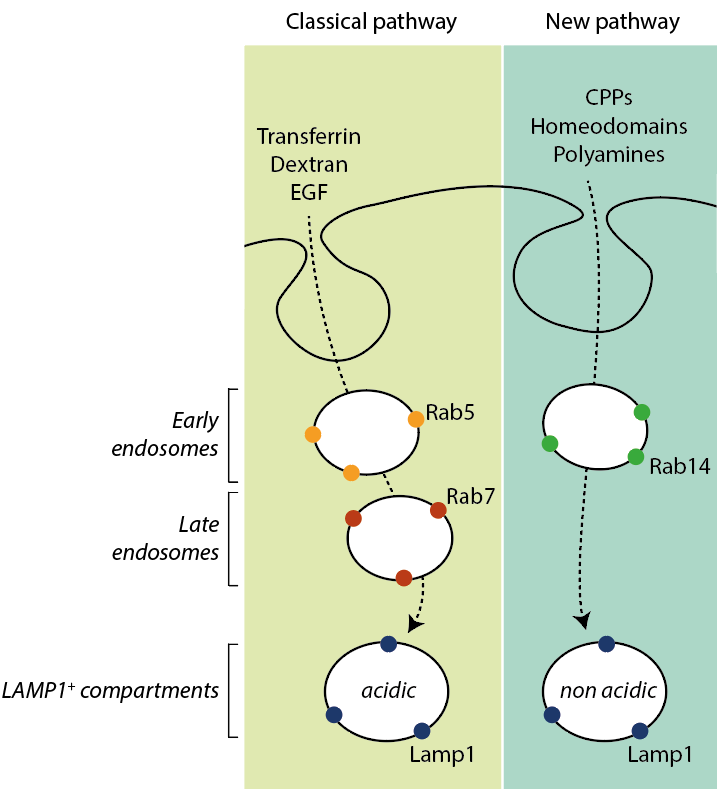 The successful applicant will have a master in cell biology, biochemistry or a related biological discipline. Required qualifications include prior knowledge on CPPs and endocytosis, creativity, the capacity to maintain excellent documentation of their work, to collaborate proficiently, and to communicate effectively with colleagues.
This position is available January 1, 2022, for 1 year in the first instance with the possibility of two extensions of 2 years each.
Applications containing a CV, a brief statement of your research experience and interests as well as contact information of 2-3 references should be sent to Pr. Christian Widmann (Christian.Widmann@unil.ch).
References:
Genetic, cellular and structural characterization of the membrane potential-dependent cell-penetrating peptide translocation pore. BioRxiv doi: https://doi.org/10.1101/2020.02.25.963017
Identification of a new, Rab14-dependent, endo-lysosomal pathway BioRxiv doi: https://doi.org/10.1101/2021.03.25.436964
TAT-RasGAP317-326 kills cells by targeting inner-leaflet-enriched phospholipids. Proceedings of the National Academy of Sciences of the United States of America 117: 31871-31881 (2020)