This meeting is organized by PhD students for PhD students. The purpose of the meeting is to overcome the local distance of the research institutes in Lausanne and to meet other PhD students working on topics related to cancer and infection.
Organization
The weekend is split into a scientific and a social part.
During the scientific part, every PhD student will have the chance to present his project either in form of a poster or a short presentation (<10 minutes, details will follow). There will be several presentation and poster sessions Friday evening and Saturday morning and evening.
Since networking is the primary purpose of the meeting we have organized a lot of social events during the whole weekend. We will start the meeting with skiing/snowboarding on Friday. If you have never done skiing or snowboarding, there will be the option to share an instructor together with other beginners (at your own cost). On Saturday, you will have the choice between different activities, among them sledging, relaxing, snowshoeing…. We will start the Saturday night with original Swiss food and then start our special theme party. Its theme is "Animal starting with the first letter of your name".
Location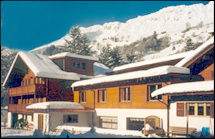 Like every year the meeting will take place in Les Diablerets. We have reserved the Chalet Les Bosquets for the meeting. It is a nice big house with own seminar room, big living room and kitchen, several bathrooms, and 4-bed and 6-bed sleeping rooms on three different floors. It is situated at the border of Les Diablerets not far from the train station and the ski lifts.
Sponsoring
The meeting is sponsored by the Department of Oncology, the Department of Immunobiology and the Cancer and Immunology PhD program of UNIL, the EDMS Molecular Life Sciences at EPFL and ISREC institute. Our sponsors will take over the costs including transport, meals and accommodation. Ski and snowboard instructors on Friday and the outdoor activities on Saturday afternoon will be payed by the participants.
Program
The program will be available soon. The final program will depend on the number of participants. Further information concerning how to reach Les Diablerets and the Chalet Les Bosquets will be available in time. A map of Les Diablerets can already be found here.