Horizon Europe is the new Research and Innovation Framework Programme FP9 (2021-2027).
In a nutshell:
Switzerland's participation?
Following Switzerland's withdrawal from the negotiations of an Institutional Agreement with the EU, the EC has decided to treat Switzerland as a "third country". See updated information andfactsheet here on Euresearch site, and Q&A on the SEFRI website.
If you plan to apply to a European scheme, contact your research consultant and UNIL/CHUV Euresearch officer for support.

When a senior researcher is setting up a European project, it is possible to apply for financial support from the Direction (See "Mesures de soutien UNIL"). Should you assume the administrative coordination of a project, and the project reaches the minimum threshold of points during the evaluation, SEFRI can grant you a financial contribution (see the dedicated SEFRI page).

Keep up to date with the latest training courses offered by Euresearch.
Structure of Horizon Europe?
Similar to H2020, with 3 pillars: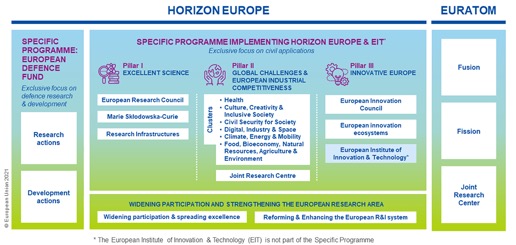 Check Euresearch up-to-date information.
Overview of upcoming calls
ERC (Pilar 1)
No major changes from H2020: Support to individual outstanding researchers proposing high-gain/high-risk frontier research projects. Host organisation must be located in EU member state or country associated to Horizon Europe.
ERC Starting Grant. PhD + 2-7 years.
ERC Consolidator Grant. PhD + 7-12 years.
ERC Advanced Grant. For established research leaders.

Expected opening: May 2021. Deadline : 31-08-2021

Synergy Grant. for 2-4 outstanding PIs with complementary background.

10-11-2021 (2022 call)

.

Proof of Concept Grant. to explore the innovation potential of the PI's research results.

Oct 2021
Deadlines for Call 2022: tentative dates.
MSCA (Marie-Curie actions, Pilar 1)
Supporting the mobility, training and career development of researchers. Host organisation must be located in EU member state or country associated to Horizon Europe
Postdoctoral Fellowships (previously: Individual fellowships). New: Will be limited to researchers up to 8 years post PhD.
Doctoral Networks (previously: ITN). Funding for Training Networks (10 – 15 doctoral candidates)
COFUND. Financial support for Doctoral and Fellowship Programmes
Staff Exchange (previously: RISE). International, intersectoral & interdisciplinary secondments
MSCA and Citizens (previously: NIGHT)
More info on Euresearch website !
Pilar 2's clusters
Launch: spring 2021
The calls are to be answered collaboratively by a consortium of at least 3 partners from 3 associated countries. SSH researchers are encouraged to participate.
If you are interested in a cluster, do not hesitate to contact Euresearch at info@euresearch.ch and visit their website for more information!
The clusters are:
Pilar 3
Aim at stimulating market-creating breakthroughs and ecosystems conducive to innovation, through EIC (European Innovation council), European Innovation Ecosystem (Aim at connecting innovation actors and scaling-up innovation in all European regions) and EIT (European Institute for Innovation and Technology).
European Innovation Council (EIC):
A new council for Horizon Europe Innovation, with 3 funding schemes:
Path finder: Aimed at researchers, to support technological development at an early stage (at the lab scale) that might end up hitting the market (previously: Future and emerging technologies)
New tool for transition. To move from a prototype (lab bench) to a product ready for the market
Accelerator: Aimed at start-ups and companies, for service almost ready, but still too risky to find investors (previously: EMI, EIC pilot)