23 persons of the Risk Group participated to the European Geosciences Union (EGU) General Assembly in Vienna, Austria, on 13 April to 17 May 2014. This huge meeting brought together 11'837 scientists from 108 countries. It is always an excellent opportunity for our group to meet new people and other scientists we work with for a long time during the five days of the meeting.
The Risk Group presented 30 contributions which are bellow by alphabetical order given.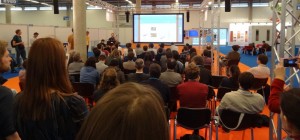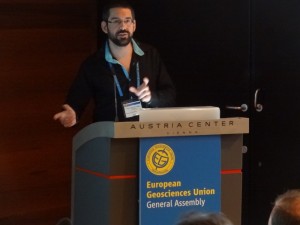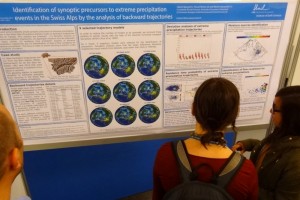 Presentations: 11 presentations, whose 6 orals, 4 PICO and one short course
Can we use ice calving on glacier fronts as a proxy for rock slope failures? Antonio Abellan et al.
New insights into 3D calving investigations: use of Terrestrial LiDAR for monitoring the Perito Moreno glacier front (Southern Patagonian Ice Fields, Argentina) Antonio Abellan et al.
Short course: Use of 3D point clouds in Geosciences: Acquisition, Processing and Applications Antonio Abellan, Dario Carrea, Florian Humair, Antoine Guerin, Marc-Henri Derron, and Michel Jaboyedoff
A prototype of an interactive web-based risk analysis tool for floods and landslides Zar Chi Aye et al.
Current challenges for high-resolution monitoring of deep geological repository boreholes using terrestrial laser scanner and photogrammetry Dario Carrea et al.
Transition between folding and thrusting: numerical simulations and applications to the Swiss Jura Mountains and the Canadian Foothills Florian Humair et al.
Understanding surface processes 3D imaging from micro-scale to regional scale Michel Jaboyedoff et al.
A LiDAR intensity correction model for vertical geological mapping Dario Carrea et al.
Characterization of the Jure (Sindhupalchok, Nepal) Landslide by TLS and field investigations Michel Jaboyedoff et al.
Conceptual issues with risk analysis in Switzerland Pierrick Nicolet et al.
Sediment cascade modelling for stochastic torrential sediment transfers forecasting in a changing alpine climate Benjamin Rudaz et al.
Posters: 19 posters whose 4 of Master students
Landslide mapping and analysis of Korbous area, Cap Bon (Northern Tunisia) Mariam Ben Hammouda et al.
Analysis of a high-alpine steep rockfall – the case of the southeastern face of the Piz Lischana (Grisons, Switzerland) Susanna Büsing et al.
DInSAR fringes simulation of sandbox models Marc-Henri Derron et al.
Modelling landslide-generated tsunami: from landslide propagation to downstream flood in dam context Martin Franz et al.
Thermal monitoring of a granitic exfoliation sheet and cliff in Yosemite Valley, California (USA) Antoine Guerin et al.
Parametric study of the impact of waste pollutants on groundwater: the case of Abidjan District (Ivory Coast) Amenan Agnès Kouamé et al.
Unplanned roads impacts assessment in Phewa Lake watershed, Western region, Nepal Geoffroy Leibundgut et al.
Fracture analysis of an Eocene reservoir in Eastern Tunisia by coupling Terrestrial Laser Scanning with GigaPan Technology and seismic attribute Raja Mastouri et al.
Assessing hail risk for a building portfolio by generating stochastic events Pierrick Nicolet et al.
3D mapping of geological contacts by coupling Aerial Laser Scanning, Gigapixel photography and open access pictures Liliane Nguyen et al.
Identification of synoptic precursors to extreme precipitation events in the Swiss Alps by the analysis of backward trajectories Liliane Nguyen et al.
Multi Criteria Evaluation Module for RiskChanges Spatial Decision Support System Roya Olyazadeh et al.
Analysis of a creeping marls event in the coastal cliffs of Bessin, Basse-Normandie, France Alizée Vioget et al.
Application on-line imagery for photogrammetry comparison of natural hazards events Jérémie Voumard et al.
Impacts of the November 2014 extreme rainfall event in Ticino, Switzerland Jérémie Voumard et al.
Application of WebGIS for traffic risk assessment Jérémie Voumard et al.
Characterization of sediment sources, sediment budget estimations, consequences and implications for populations in the Jatún Mayu watershed (Cochabamba, Bolivia) Jean-Marie Vuignier et al.
Contribution of terrestrial and helicopter based laser scanning for studying the Sechilienne rock slope instability (Isère, France) Cindy Vulliez et al.
Experimental quantification of a granular crater induced by a liquid-to-granular impact using a 3D scanner Emmanuel Wyser et al.